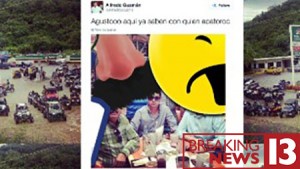 A social media faux pas or diversionary tactic? The son of Sinaloa cartel chief Joaquin Archivaldo Guzman Loera, aka 'El Chapo', may have tweeted a clue to the fugitives whereabouts. A post to an account believed to belong to 'El Chapo's' son, Alfredo Guzman, includes a photo of the 29-year-old flanked by two unidentified men whose faces are obscured by emoticons. The mustached man sitting to offer does right at a restaurant resembles the kingpin.
The post says: "Satisfied here, you already know with whom."
The tweets location shows Costa Rica. What's unclear is whether the location tag was inadvertently left on, meant to distract authorities are intended to mock them. It's not even clear whether this Costa Rica is the Central American country or a town in Mexico. "One of the most intelligent traffickers has been 'El Chapo'," said Phil Jordan, who spent more than 30 years with the DEA. "His son is not the brightest star on the Christmas tree. The best recorded intelligence on the son is that he doesn't have his father's intelligence. But I caution this could be a diversion to throw off authorities."
In July, Mexico's most notorious drug lords stepped into a shower and slipped into a tunnel to escape from the maximum-security Altiplano Federal Prison. Prison security cameras recorded images from Guzman moments before he apparently crawled through a hole in the shower area of his cell to a lighted and ventilated tunnel that stretched from the prison to a half built a house nearly a mile away. Monday's Tweet may have given the public its first glimpse of Guzman since the prison footage.
https://twitter.com/AlfreditoGuzma/status/638380579205939200/photo/1?ref_src=twsrc%5Etfw