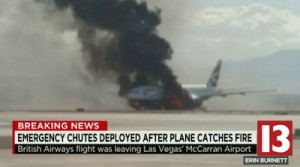 Las Vegas –  A fire broke out Tuesday on an outbound British Airways flight at the Las Vegas airport, leaving two people to be transported for medical care for what the airport called "minor injuries."
The incident occurred shortly after 4 PM and involved British Airways flight 2276, which was bound for London's Gatwick Airport, according to the McCarran International Airport's twitter feed. The Federal Aviation Administration said the aircraft's left engine caught fire, prompting the crew to abort the takeoff. The Boeing 777 had 159 passengers and 13 crew members aboard at the time.
Photos at one point showed large plumes of smoke rising from the aircraft, though the airport indicated the fire was put out. The incident spurred McCarran to close one of its runways, the airport tweeted. Aerial video showed the craft on the tarmac, with fire trucks nearby and several slides coming out of the plane the passengers used to exit and board buses that took them to the terminal.