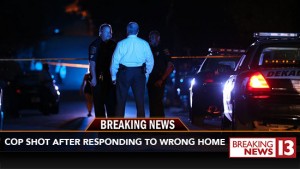 News 8 –  Authorities say an Atlanta area police officer was shot and critically injured Monday night after officers responding to a call about a suspicious person showed up at the wrong house. DeKalb County Police Chief Cedric Alexander said the officer was shot in the thigh after he and two colleagues entered a home through the back door and identify themselves. Alexander said the officer, whom he did not identify, had lost a lot of blood and was in surgery at a local hospital.
It was not immediately clear who fired the shots. It was not known if the homeowner also had a firearm. "A lot is yet to be determined here," Alexander said. "But we did respond to the wrong residence tonight." The chief added that the homeowner was also shot in the leg and that the homeowners dog was killed. The homeowner's girlfriend was also there at the time of the shooting and called 911. The Georgia Bureau of Investigations has been called in to examine the incident, it happened in a neighborhood approximately 5 miles southeast of downtown Atlanta.
Alexander said the officers had not been given a street address, but went to a home matching the description given by a 911 caller who made the initial report. When the officers went around to the back of the house, they found the back door and screen door were unlocked, leading them to believe that someone had broken in. Derek Perez told The Associated Press that he reported the suspicious person. He said he was walking his dog when he saw a man knock on a neighbor's door and then just stand in the yard. He said he then heard a loud noise, a dog barking and didn't see the man anymore. There had been break-ins in the neighborhood recently, so he called 911, he said.
Just as he was about to go into his house, he heard the gunshots, but they did not come from the house where he had reported the suspicious person. Police were still investigating whether there was a burglary at the home where the suspicious person was spotted. "Our thoughts and prayers go out to the homeowner," Alexander said. "And our thoughts and prayers go out to be officer who suffered a severe, critical injury here tonight. We just hope both of them recover well."