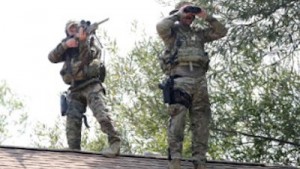 An Illinois police officer was shot and killed in Lake County on Tuesday, authorities said, and search is on for three suspects. Law enforcement on foot and in helicopters are combing the area, said Lake County Sheriff's Sgt. Christopher Covelli. The shooting happened about 10 minutes before 8 AM local time, according to the Sgt. The slain officer worked for Fox Lake Police, a community of about 60,000 people within Lake County.
The officer radioed that he was pursuing three suspects on foot, according to Cavalli. The officer described them as two white men and one black man, he told CNN. Radio communication dropped off and backup officers were sent. They found the officer with a gunshot wound. He was a 32 year veteran of the police force.
K-9 units have also been dispatched, and agents with the Federal Bureau of Investigation and Bureau of Alcohol, Tobacco, Firearms and Explosives are assisting. Residents have been asked to remain inside their homes and businesses, he said. Some schools have been placed on lockdown. "We asked residents to report any suspicious activity they happen to see, whether they think it's something minor or major and to keep an eye out for these three individuals," Covelli said.