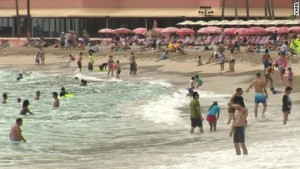 Desiree Smith would've loved to dip into the water of Honolulu's famous white sand Waikiki beaches. But the 500,000 gallon sewage spill was a deal breaker. Lifeguards warned beachgoers to stay out of the ocean along a few miles of beach Monday because waste water had flowed out of manholes during heavy rain overnight, the city's Department of Environmental Services reported.
 "I was coming down to have a swim, but I think I might pass now," Smith told Hawaii News Now. "It doesn't seem like paradise when you think that there could be nasties floating in it." City officials said more than 500,000 gallons of wastewater escaped from manholes in the Hawaiian capital's Waikiki neighborhood and entered storm drains leading into the ocean. The escape was facilitated by people who had illegally opened manholes to alleviate flooding during heavy rainfall.
The spill forced organizers to cancel Monday's beachside events for Dukes OceanFest, and annual weeklong celebration of Olympian swimmer Duke Paoa Kahanamoku, who is credited with bringing surfing to the outside world. The cancellation came at an unfortunate time – Monday would have been Kahanamoku's 125th birthday. "We don't know right now what is in the water. You can get a serious infection, get extremely sick or even worse," said Shayne Enright, Honolulu's Emergency Services Department spokeswoman.
Lifeguards used bullhorns to tell people to stay out of the ocean. But dozens remained on the beaches, and a few still took to the water. "Even if they don't let me, I'm still going in," Adam Rago, a visitor from California, told Hawaii News Now. "It's a lot of water there. I don't think a little particle is going to hurt me."