Las Vegas, NV –  A Las Vegas mother, 23 year old Millea Katlyn Thomas, was arrested on Saturday after she posted a photo to Facebook ranting about the breakup with her child's 'dead-beat' father. The photo she posted showed her five-month-old son with the word 'bastard' tattoo across his forehead.
 Her Facebook post, which was posted on January 7, reads: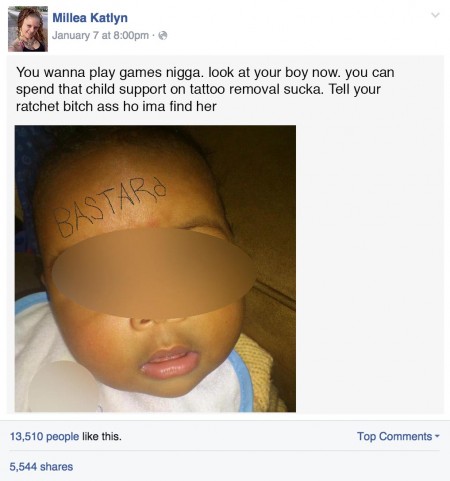 Her post received nearly 25,000 shares before the police received their tip from many concerned Facebook users. After receiving several calls, authorities tracked down Thomas using the 'Facebook Places Location Tracking' tool that allows anyone to see a map of where you were when you posted a photo. Fortunately for her son, she did not deactivate her location sharing which made it easy for police to locate her.
Thomas was arrested and her son was placed with family members. Authorities are still working on tracking down the baby's father. Thomas refuses to give the police any information about him claiming, "I don't want my baby with that piece of sh*t n*gga and his trick ass ho." Thomas is being held in the Las Vegas city jail on no bond awaiting trial.